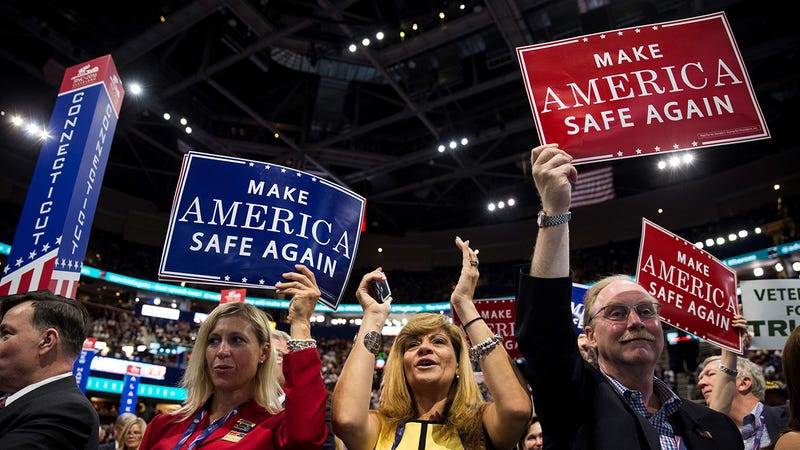 For the next two weeks, political conventions are taking over the news cycle. Rather than watching every single day, we're rounding up the most important bits so you can catch up and get on with your day. Here's what happened on the first day of the Republican National Convention.
Anti-Trump Delegates Continue to Push Against His Nomination…
From Cleveland.com: An attempted rebellion at the Republican National Convention hit a wall Monday afternoon — and those trying to push new rules that could have jeopardized Donald Trump's nomination here responded with a raucous display.
…Then a Group of Delegates Walked Out in Protest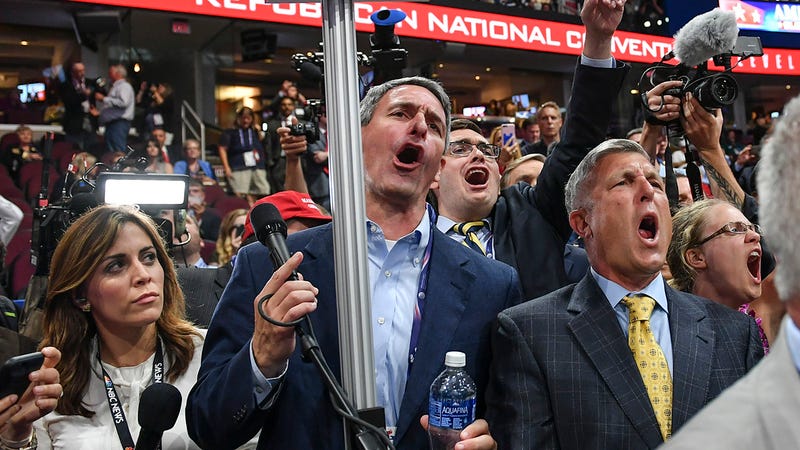 From Vox: What Unruh and her fellow travelers wanted on Monday was a written roll call vote, and got enough signatures to force the convention to take one. When Rep. Steve Womack of Arkansas tried to get delegates to accept the rules just by yelling "yea" or "nay," the convention floor erupted into chaos. Unruh and the Colorado delegation walked out, as did the Iowa delegation.
Parts of Melania Trump's Speech May Have Been Plagiarized From Michelle Obama
From Gawker: You can see Trump's words presented side-by-side with Obama's in the video above. Some phrases—such as "that your word is your bond" and "your willingness to work hard for them"—were lifted nearly word-for-word or exactly so, with the rest of the section seemingly specifically tailored to avoid detection.
Rudy Giuliani Delivered Speech on Day One's Theme, "Make America Safe Again"
From CNN: In a speech introducing Donald and Melania Trump, Giuliani stuck to the day's themes: attacking Clinton over Benghazi and immigration.
"Who would trust Hillary Clinton to protect them? I wouldn't. Would you?" he said.
Stephen Colbert Briefly Hijacked the RNC Stage In Hunger Games Costume
From Washington Post: Comedian Stephen Colbert took the RNC by storm on July 17, showing up in costume as Caesar Flickman from "The Hunger Games" and jumping on the stage to mock Republican presidential candidate Donald Trump. (Video: Cassandra Fairbanks)
---
We'll bring you more updates throughout the next couple weeks with the highlights and where you can find more information for each day of the major parties' political conventions.