This Mayor Has An Incredibly Simple Idea To Help The Homeless. And It Seems To Be Working
August 13, 2016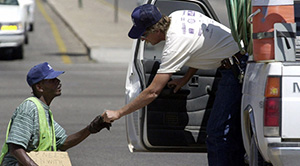 Mayor Richard Berry was driving around Albuquerque last year when he saw a man on a street corner holding a sign that read: "Want a Job. Anything Helps."

Seeing that sign gave Berry an idea. Instead of asking them, many of whom feel dispirited, to go out looking for work, the city could bring the work to them.

The Washington Post reports: "In less than a year since its start, the program has given out 932 jobs clearing 69,601 pounds of litter and weeds from 196 city blocks. And more than 100 people have been connected to permanent employment."

Dozens of cities around the country have reached out to Berry wanting to copy the program.

"It's helping hundreds of people," Berry said, "and our city is more beautiful than ever."